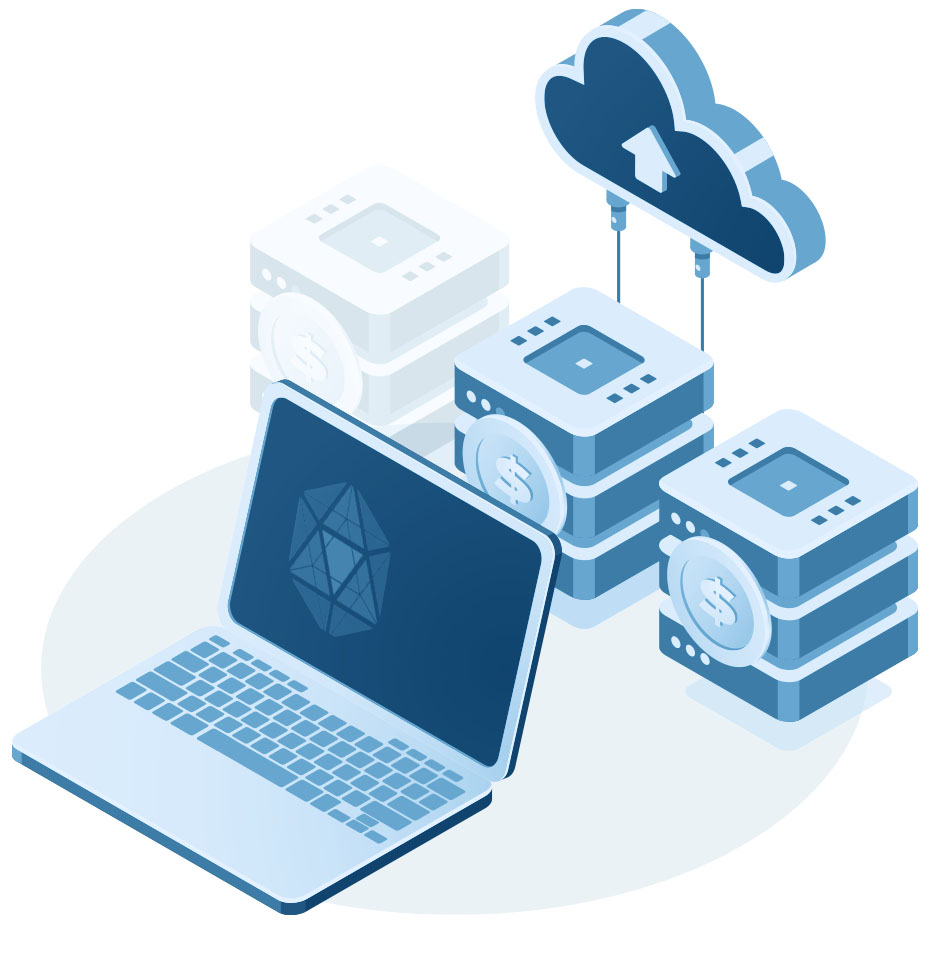 One CPU Hour –
One Price
Straightforward and affordable pricing. Only pay for what you actually need! We aim to keep our pricing as simple as possible. Therefore you only pay for the time you use the cloud-computing machine, which is automatically minimised by our system. Up- and download bandwidth as well as cloud data storage are included.
The logic could not be simpler: one CPU hour – one price; That's it!
Want to try out our Kaleidosim cloudCompanion for COMSOL right away? Then retrieve 50 free CPU hours in addition to the first CPU hours you purchase (minimum purchasable amount: 150 CPU hours; 150 x 0.16 = $24), by simply creating your Kaleidosim for COMSOL account right here or by contacting us.
Our Offer
We offer nothing short of instant access to latest, strongest cloud hardware, specifically selected to suite the needs of COMSOL users:
AMD EPYC Milan 3rd Generation 7B13 machines, 2.8GHZ effective- to 3.5GHz max boost frequenz, high-RAM with an amazing 16 GB (!) RAM per CPU-core from 1 CPU core up to 56 CPU cores (bare metal, non-virtualised) and 257 TB storage capacity per machine.
This is what COMSOL state in their official hardware recommendation concerning the machines we offer: "… High-end CPUs, such as […] AMD EPYC processors […] allow the CPUs to communicate with each other to access very large amounts of memory. These processors have the highest memory bandwidth; the ability to quickly move a lot of data back and forth between RAM memory and the processor. That is their primary advantage when running COMSOL…"
Still: Access to cloud hardware is only the beginning of what Kaleidosim cloudCompanion for COMSOL is. The cloudCompanion was created to orchestrate 100s of cloud based computers simultaneously and at the ease of a click. Mediating between your local COMSOL and the ferocity of the cloud; Dealing with every possible cloud issue for you and in fact minimising the time of usage of cloud hardware-to-be-charged, cloudCompanion enables you to conduct individual runs or vast COMSOL Cluster Sweeps faster and more efficiently than ever before.
So our offer is about so much more than just cloud hardware; It is about saving your valuable working and waiting time!
Run on COMSOL optimised AMD EPYC MILAN 3rd Gen, 2.8-3.5GHz machines with 16(!) GB RAM per core

Charged machine usage always automatically minimised

Highest priority accessibility – no queuing, never!

Upload and download volume included

Included cloud data storage

Packages from 150 CPU hours via Credit Card purchase
Pay-per-Use packages: just use your credit card from within your Kaleidosim user account to purchase any number of CPU hours starting from 150 CPU hours
One-Time CPU hour packages: take a look below and contact us to select any multiples of our CPU hour package deals
Recurrent CPU hour packages: Every one-time CPU hour package seen below is also available as recurrent deal for even better rates and tech-support services. Contact us to learn more
Let's make a sample Calculation
Let's do a COMSOL Cluster Sweep based on a steady-state, RAS-turbulent, single-phase flow (CFD) simulation on a 4 million cell finite-element-grid, where about 5000 iteration cycles would lead to convergence. Let's furthermore assume, that flow-boundary conditions like e.g. onset fluid-flow velocity magnitude and angle shall be varied in a large parameter study (Cluster Sweep). The study shall consist of not less than 100 varying sets of boundary conditions (e.g.: 10 different magnitudes, 10 different angles of attack fully permutated). AMD Epyc Rome CPUs yielding 8 virtual CPU-cores per machine, shall be chosen for the task. All 100 cases will be run simultaneously via Kaleidosim cloudCompanion for COMSOL. How much would this considerable Cluster Sweep study approximately cost if you purchased CPU hours e.g. via our Basic package (= 0.14$ per CPU hour)?

Virtual Cores per Machine

Total Wall Clock Time in Minutes

Number of simultaneous Simulations

Kaleidosim can host your COMSOL license server at cost in our cloud. We will configure a user for you that you can SSH tunnel your COMSOL users into so they can use your COMSOL Network Floating License for your user's COMSOL UI to authenticate to.
Kaleidosim charges the setup cost and a monthly fee associated with this license server hosting as follows:
One-time charge for set-up: $100
Monthly charge for hosting: $28.03 (for max. 25 users); $54.95 (for max. 50 users); $108.81 (for max. 100 users);
To learn more: Contact Us
Kaleidosim hosted Tunnel Server
Kaleidosim can host a tunnel server for you, at cost in our cloud. For high security situations where you wish to keep your COMSOL license server on your own premises, but do not want to use a DMZ machine with open ports on your infrastructure we recommend this option.
Kaleidosim will host a tunnel server for you in our cloud. We will provide you with SSH login RSA certificates for this server. You will establish an SSH tunnel from your local license server yourself to this tunnel server and reverse forward your license server ports from that server to your internal license server.
Kaleidosim charges the setup cost and a monthly fee associated with this tunnel server hosting as follows:
One-time charge for set-up: $100
Monthly charge for hosting: $10
To learn more: Contact Us
Data Security & Storage Options
Kaleidosim was designed with the highest cloud-data security standards in mind. Our standard pricing packages (Silver, Gold,
Enterprise) follow all best practices to minimize any data security risks. For all our standard pricing packages Kaleidosim Security
Standard (see graphic below) applies. There data never leaves the EU and is stored and processed in the Netherlands. For even
higher data-security standards, geo-specific data storage requirements or indeed a multitude of other special customer requests,
Kaleidosim can offer additional security features as well as custom tailored prizing models. Check out our overview of Kaleidosim
data-security options.
| | Kaleidosim Security Standard | Kaleidosim High Security | Kaleidosim VPN |
| --- | --- | --- | --- |
| Encrypted connections | X | X | X |
| Encrypted data storage | X | X | X |
| Signed URLs for up and download | X | X | X |
| Single end point VM communication | X | X | X |
| VMs are cut off the internet | | X | X |
| VMs are fully encrypted | | X | X |
| Data is only ecrypted within the CPU | | X | X |
| Integration into private cloud network | | | X |
| Access only through VPN | | | X |
Drop us a Line and
let's discuss your Venture!
Curious and want to check out new possibilities? Then get in touch and let's get started with lifting your software to the cloud.